In the 19th century, books in the west were often published in weekly segments in journals and newspapers. Readers awaited each new instalment and the discussions that followed eagerly. Pigeonhole is a new publishing platform aiming to revive this communal spirit of reading. 
One of the series you can read on their platform at present is Letters From Africa, which over the course of ten weeks, publishes weekly dispatches from four writers about everyday things in their cities: family, fun, the daily commute, education, sexism, ethnic tensions, the arts and corruption, as well as on-the-ground updates on the Nigerian and Egyptian elections. 
Additionally, Letters From Africa provides readers with a selection of weekly extra content,  of which my article titled "Why haven't you heard of Adelaide Casely-Hayford?" on Pigeonhole, published today, is in full below.
---
According to 'Google Images', the front-figures of pan-African leadership are Kwame Nkrumah, Malcolm X, Steven Bantu Biko, Frantz Fanon, Wole Soyinka, Nelson Mandela, Muammar Gaddafi, Haile Selassie, George Padmore, Walter Rodney, Patrice Lumumba and Marcus Garvey.
This despite the fact that Google – thanks to its cookies (or something) – usually seems to know to include some feministic results in my searches. On this occasion it is crystal clear: the image of pan-Africanism according to Google is unquestionably male.
But, however salient Google is in shaping today's knowledge, let's not take it as an authority on the matter (nor the similar Wikipedia search that I did). And by the way, the matter in the article is the conspicuous absence of women in the pan-African discourse. So here is Dzodzi Tsikata, vice president of Africa's premier, pan-African social science research organisation, the Council for the Development of Social Science Research in Africa (CODESRIA), writing in Feminist Africa. She says:
It is well known that women were active in the pan-African movement and in the anti-colonial struggle, that we made substantial contributions and faced many challenges working in male-dominated movements. We have been able to do this in spite of having to survive all the constraints of our male-dominated societies. We need to restore women – those on the continent as well as the better-known women of the African diaspora – to their rightful place in the pantheon of pan-African leaders.
As Tsikata knows, it is going to be a hard-won battle. While most who describe themselves as pan-Africanists are familiar with the aforementioned male leaders, fewer know about the work of pan-African leaders such as Charlotte Maxeke, Albertina Sisulu, Una Marson, Djamila Bouhared, Mable Dove Danquah, Margaret Ekpo, Ida B Wells, Amy Ashwood Garvey, Josina Machel, Wambui Otieno and Adelaide Casely-Hayford. Moreover, if and when people discover the work of these women, they simultaneously assign them to the feminist cause, which often means they forget about their work as pan-Africanists.
In other words, because women (such as those listed above) campaigned against inequality, not only as it manifests between Africa and the West, but also as it manifests between African men and women themselves, their leadership is nevertheless omitted from the larger pantheon of pan-African thinking.
To use a contemporary example, consider Winnie Madikizela-Mandela who is better known for her marriage to the late ANC leader, Nelson Mandela, than for the pan-African leader that she is. There is no denying that Winnie's political career has been shaped by her relationship with Nelson Mandela, but her struggle was not the side dish of his struggle. Whatever one thinks of her political strategies – past or present – there is no denying that she made sacrifices for the liberation struggle that every (pan)African benefits from.
There are three related reasons why women are erased from the pan-African leadership canon as I see it. Firstly, because all female pan-African leaders are also feminist leaders – once you resist tyranny from one source, you automatically resist it from another. Secondly, opposition to male tyranny disturbs those who view privilege as a male birthright, and thirdly – consequently – chauvinistic pan-Africanists use manipulative strategies to obscure "the woman question," as they depreciatingly refer to feminism as.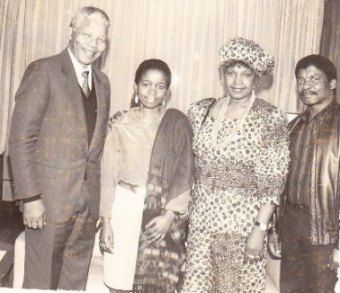 This is a dangerous misconception. The feminist question is an essential part of pan-African struggle, but is still the Achilles Heel of pan-Africanism. To liberate Africans from Eurocentric dominance, it is also necessary to liberate them from the resultant patriarchy, scientific assumptions, legal inferences and Western moral code that has been so fervently incorporated into African society.
The key purpose of a united Africa is to build a strong frontier against foreign meddling in African affairs and to encourage self-reliance. Pan-Africanism seems the best tool for realising that goal. However, it is widely accepted – in theory – that Africans countries will not meet this objective lest women are involved in the process. And yet, as pan-Africanism stubbornly remains a male dominant ideology in practice, we must bring ourselves to ask whether, and how, it truly can lead toward its own aspirations. Such a task is intricate, and not accomplished in one sitting, but it is worth doing. Here's a start – Google Adelaide Casely-Hayford.