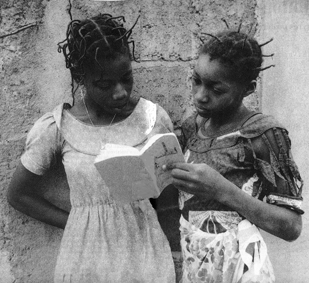 In the lead up to the short list announcement for the Nobel Prize in Literature on 30 May, headlines this week brought to the fore the problematic obsession that some people have with the Nobel Prize in Literature being awarded to the late Chinua Achebe. For years, the pre-announcement period has seen speculations demands as to whether the Nigerian author would be nominated and now after his death, admirers continue to lobby for posthumous recognition.
In a candid interview with Sahara Reporters this week, Wole Soyinka laments that he has received pleas that he, as a former recipient of the award, use his nomination qualification to put Achebe forward. One of the "pontificators", as Soyinka refers to them, writes him saying:
"I told these people, leave it to Wole Soyinka – he will do what is right. We hear Ben Okri, Nuruddin Farah, even Chimamanda Adichie are being nominated. This is mind-boggling. Who are they? Chinua can still be awarded the prize, even posthumously. We know you will intervene to put those upstarts in their place. I've assured people you will do what is right."
This is troubling because while Achebe certainly is deserving of the prize, his not receiving it takes nothing away from his contributions to world literature. The insinuation that his ouevre is incomplete without the accolade is a distressing reminder of how "bigmanism" can cripple minds. To these people, the Nobel-laureate title rings synonymous to "Chief" or "Oga" or "President".
On the other hand commentators remain utterly speechless on what, or rather who, really is neglected at the delightful smorgasbord that is the canon of literary Nobel laureates, namely women. Out of the 105 Nobel Prizes in Literature that have been awarded only twelve have been awarded to women, and, out of those twelve only one, Nadine Gordimer, is African. Furthermore, a black African woman is yet to be acknowledged in this category despite that there is enough writing by black African women which meets the requirements of the Academy. Where is the outrage over the absence of an Ama Ata Aidoo, Bessie Head, Yvonne Vera, Nawal El Saadawi or a Buchi Emecheta in the Nobel Prize archive? Instead all the voices continue to fuel fire to the tired plea that Achebe, however meriting, receive the award.
I firmly believe that great literature has no gender, race, class or sexual preference, but there are nevertheless tendencies to categorize authors and their works by traits that have little to do with their achievements. Men's centrality in the Nobel Prize in Literature award is an expression of how male dominance is systemically and culturally reinforced.
Of course, women's absence from the award cannot be blamed on the jury panel alone. In fact their exclusion indicates gender discrimination in the nomination process as much as, if not more, than in the selection process. In either case, it has discouraging consequences, reinforcing notions that men's writing is serious and important while women's writing is of a less critical nature.
Given the increased sales and prestige that is afforded Nobel laureates, the disproportion of women writers and absence of black African women writers is conspicuous.  Alas, this fails to generate collective outrage.
Who would you wish to see on the candidate short list?